3 Ton Bison Electric Chain Hoist
July 11, 2018

3 Ton Bison™ Electric Chain Hoist
July 20, 2018
2 Ton Bison™ Electric Chain Hoist
Warning
: sizeof(): Parameter must be an array or an object that implements Countable in
/var/www/wp-content/themes/betheme/woocommerce/single-product/meta.php
on line
15
Bison's 3 Phase Electric Chain Hoists are equipped with the latest technology. They include a lightweight aluminum body with a fan-cooled motor, standard thermal motor protection, friction-clutch, limit switches and a safety brake. Bison hoists feature Schneider Electric™ contactors.
       Features:
20 Foot lift Height (Custom lifts are available upon request)
Chain Container (on all standard lifts)
Ergonomic Pendant
Friction Slipping Clutch
Load Brake
Dual voltage 230/460V (Prewired for 460V)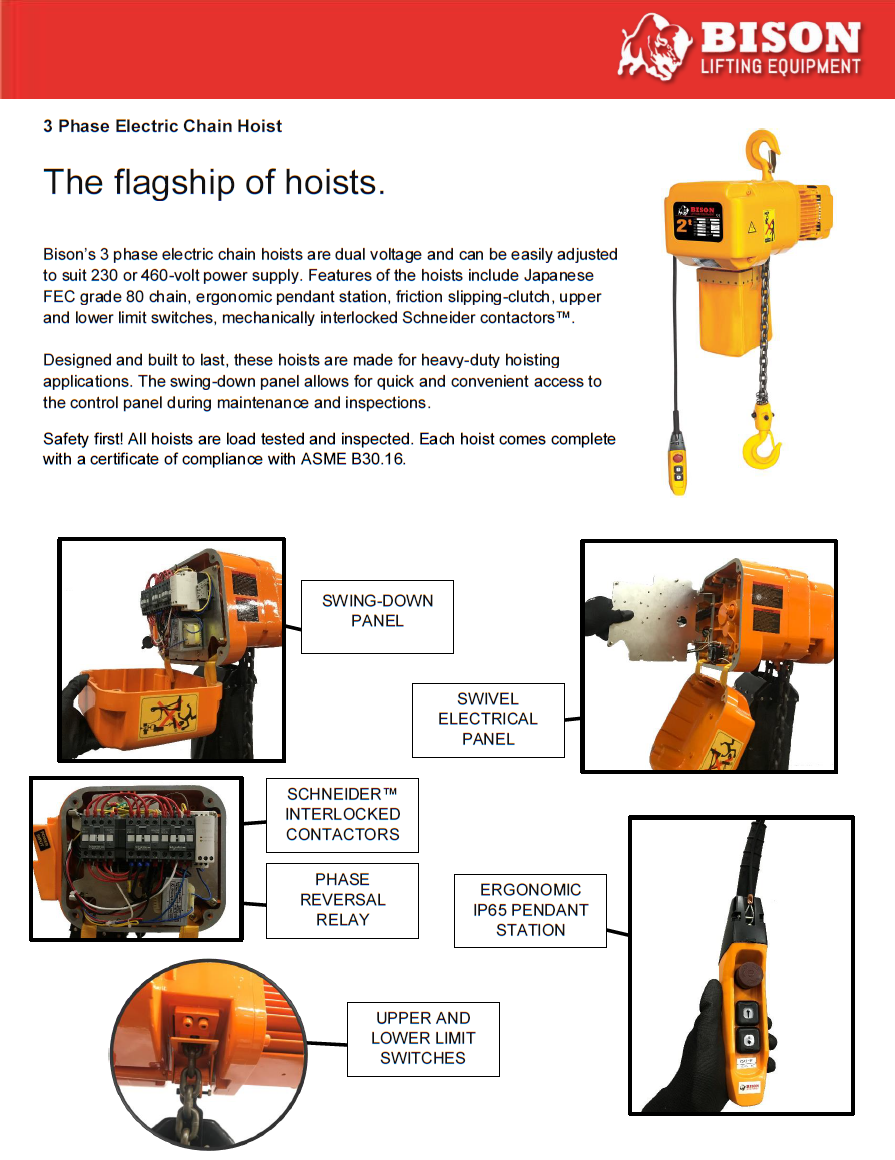 Technical Specifications (Single Speed)
Weight
200 lbs
Product Code:

Single Speed: HHBD02SK-01
Dual Speed: HHBD02SK-01D

Brand:

Bison Lifting Equipment™

Horsepower:

2 HP

Chain lines of Fall:

1

Phase:

3

Chain Size:

10mm

Standards:

Complies with ASME B30.16

Rating:

Hoist: IP55
Pendant: IP65

Hoist Weight:

Single Speed: 171 Lbs.
Dual Speed: 212 Lbs.

Lifting Speeds:

Single Speed: 14 ft/min.
Dual Speed: 20/7 ft/min.
Notice
: id was called
incorrectly
. Product properties should not be accessed directly. Backtrace: require('wp-blog-header.php'), require_once('wp-includes/template-loader.php'), include('/themes/betheme/woocommerce/single-product.php'), wc_get_template_part, load_template, require('/themes/betheme/woocommerce/content-single-product.php'), woocommerce_output_related_products, woocommerce_related_products, wc_get_template, include('/themes/betheme/woocommerce/single-product/related.php'), WC_Abstract_Legacy_Product->__get, wc_doing_it_wrong Please see
Debugging in WordPress
for more information. (This message was added in version 3.0.) in
/var/www/wp-includes/functions.php
on line
5663